compensation: Compensation will be commensurate with the successful candidate's experience.
employment type: full-time

QR Code Link to This Post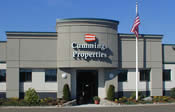 Cummings Properties is seeking a Graphic Designer to join our 20-person Design Department. The Design Department at Cummings Properties is part architectural firm, part graphic design studio, and part engineering office - and practically one big family (https://www.cummings.com/about/design-dept.html). The twenty team members represent architecture, interior design, construction management, graphic, web, and environmental design - even mechanical and structural engineering. We design and manage nearly everything from websites to major commercial buildings.

Our graphics team regularly develops and implements brand strategy, marketing, and operations graphics for Cummings Properties' and Cummings Foundation's commercial, residential, and senior housing projects. This includes digital and print media, advertising, environmental graphics, vehicle wraps, and project visualization.

About You and the Position:
To join us, you must be fluent with the Adobe CS platform, proficient in InDesign, Photoshop, Illustrator, and Dreamweaver. A typical day might include HTML/CSS programming for one of our websites, designing signs with our construction group, fine-tuning an e-blast for our leasing team, and Photoshopping a rendering with our architects. Graphics team members are our official photographers, assist with event planning, develop project cost estimates, and order materials. Qualified applicants should be able to multi-task in a fast-paced environment, and be willing to jump in to make a quick edit or bring a concept to completion. Preference will be given to qualified candidates that live in or near Woburn.

About Cummings Properties: Founded in 1970, Cummings Properties has a culture that emphasizes open communication, innovative thinking, and meticulous attention to detail. We offer a comprehensive compensation and benefits package that includes:
• Competitive salary and opportunities for bonuses
• Medical, dental, life, and long-term disability insurance
• Paid holiday, vacation, sick, and personal time
• A retirement savings plan
• Unlimited career advancement and growth potential

Cummings Properties has a long history of giving back to the community. The large majority of Cummings Properties' buildings are owned by Cummings Foundation, with all rental profits benefiting charitable causes. Learn more at www.cummingsproperties.com/our_buildings_power_charities.html.

Interested applicants are encouraged to send a cover letter, resume, and salary history to: hiring@cummings.com. Cummings Properties is an Equal Opportunity Employer. In the interest of the health and well-being of our employees and clients, we have a zero tolerance policy for prohibited drug use and alcohol abuse. Please visit www.Cummings.com and www.CummingsFoundation.org to learn more about the Cummings organization. To learn more about our team-oriented approach, please visit our design department page at https://www.cummings.com/about/design-dept.html.

Principals only. Recruiters, please don't contact this job poster.
do NOT contact us with unsolicited services or offers
post id: 6579057917
posted:
updated: