compensation: Compensation will be commensurate with the successful candidate's experience.
employment type: full-time

QR Code Link to This Post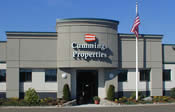 Cummings Properties, LLC is a stable-indeed, a growing 50-year-old Greater Boston commercial real estate development and ownership firm. We take pride not only in providing clients with outstanding and friendly service but also in bringing bright, energetic, and talented colleagues onto our team and giving them room and opportunity to realize significant career aspirations.

We seek an accomplished, self-motivated, results-oriented Finance Director with a strong work ethic to lead our finance, human resource, and administration group. This challenging and rewarding position offers a promising upward career opportunity under the guidance of a long-term CFO with an impending retirement. Candidates must be team players and relationship builders who act with great integrity and objectivity.

Key responsibilities for the position include but are not limited to:
• Oversee all aspects of finance and financial reporting both for profit and non-profit entities.
• Develop tax strategies in addition to return preparation.
• Formulate financial policies and plans to meet our organization's short- and long-term objectives.
• Manage human resources, benefit plans, and ERISA compliance reporting.
• Identify and manage business risks and insurance requirements.
• Oversee payroll activity for 600+ employees.
• Direct and oversee IT, including system design, user support, and corporate phone systems.

Education and Experience
• Advanced degree(s) in accounting, finance, taxation, or related fields
• CPA or CMA designations preferred but not required
• 10+ years of progressively responsible experience
• Excellent analytical, business writing, and editing skills
• Proficiency in Microsoft Office products, especially Excel and Access
• Exceptional verbal communication skills, including the ability to articulate recommendations in a concise and timely manner
• Not required, but industry experience and/or experience with not-for-profits is a plus

Interested applicants are encouraged to send a cover letter, resume, and salary history to: hiring@cummings.com. Cummings Properties is an Equal Opportunity Employer. In the interest of the health and well-being of our employees and clients, we have a zero tolerance policy for prohibited drug use and alcohol abuse. Please visit www.ElliottLanding.com, www.CummingsProperties.com, and www.CummingsFoundation.org.

About Cummings Properties: Founded in 1970, Cummings Properties has a culture that emphasizes open communication, innovative thinking, and meticulous attention to detail. We offer a comprehensive compensation and benefits package that includes:
• Competitive salary and opportunities for bonuses
• Medical, dental, life, and disability insurance
• Paid holiday, vacation, sick, and personal time
• A retirement savings plan
• Unlimited career advancement and growth potential

Cummings Properties has a long history of giving back to the community. The large majority of Cummings Properties' buildings are owned by Cummings Foundation, with all rental profits benefiting charitable causes. Learn more at www.cummingsproperties.com/our_buildings_power_charities.html.



Principals only. Recruiters, please don't contact this job poster.
do NOT contact us with unsolicited services or offers
post id: 6524891021
posted: